The High Park Community Music Project offers children from within the 10 Parishes surrounding Wiveliscombe in Somerset an affordable opportunity to learn to play Clarinet, Flute or Saxophone in a band. For a weekly donation of £2 per child they can come to one of the three one hour sessions that are run on Saturday mornings during term time. This includes the use of an instrument which is provided by local fundraising and sponsorship, originally this was from ragging – collecting unwanted textile items which were then either recycled or upcycled. This provided High Park with a regular source of income in the early days. With changes to the rag-trade we've had to seek alternative funding and often hold fundraising events to enable High Park to continue.
High Park Music Project meets at the Silver Street Centre, Wiveliscombe.
It was originally the inspiration of professional music teachers, Hilary Wickham and Louise Lawrence who share a wealth of musical experience between them. Their passionate belief that every child should have the opportunity to access music led to the beginning of High Park Community Music Project – or High Park Music School as it's often referred.
Now, in 2022, the team is headed up by Hilary who continues to dedicate a so much energy into keeping High Park such a fantastic group. Charlotte Stus joined in 2017 and is providing support and tutoring for the clarinettists when she is not required to work on weekends. Bex Maynard joined in 2014, initially as administrator, then tutoring the young flute players, now, she is taking a back-seat and continuing with keeping the website up to date. Helen Rook also joined the team in 2019, with her daughter learning flute, she is providing a vital support role ensuring our safeguarding policies are all up to date.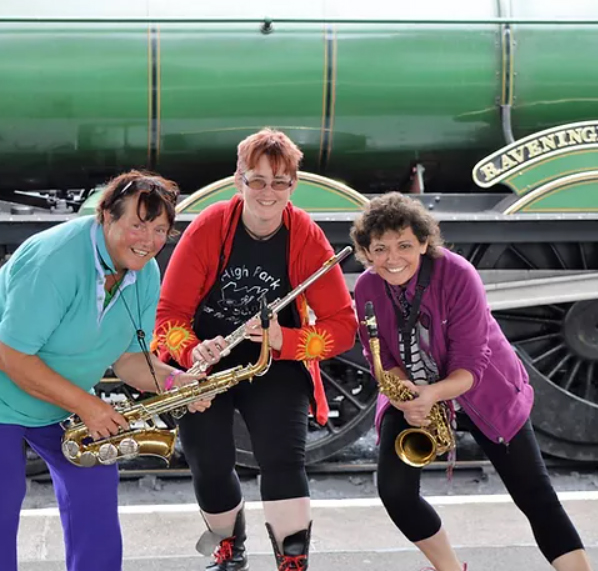 High Park musicians perform at many events including local fundraising concerts for a variety of causes such as the Moorland Mousie Trust among others.
Since the doors opened in January 2012 over 80 children have started to learn an instrument in the band!
10 years on from those early days it is really encouraging and exciting to hear from former High Park students when they go on to continue both music studies and performing arts. One has gone to Reading to further her career in performing arts. Another has continued his musical journey by gaining a scholarship with the Centre for Young Musicians in Taunton. Other students are forming their own groups/bands and playing in other local bands. It's great to know that a start in High Park gives students the confidence to progress not just in music but in all aspects of performance.
As they progress many of the youngsters will go on to join the Wiveliscombe Community Wind Band.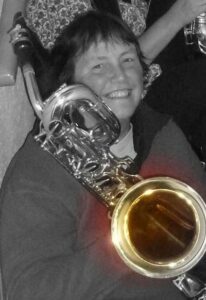 Hilary Wickham
Director & Every Instrument Tutor
Hilary studied at the Royal Scottish Academy of Music and Drama and the Royal Academy of Music, she retired in 2017 after many years peripatetic teaching.
She is also Musical Director of Tiverton Operatic, peripatetic organist for the 10 Parishes. Hilary enjoys a variety of music, played Baritone Sax with Reed Rage Sax Octet, Flautist with Frivolous Winds.
Hilary is director of Wivey Wind Band and not content with complete retirement she's now starting a new beginners group for adults!!
"Spare" time is spent in the garden. Her dog Tinker and 2 alpacas ensure there is never a dull moment!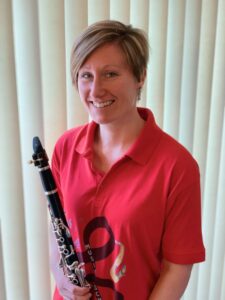 Charlotte Stus
BMus(hons) DipLCM DipABRSM CME
Clarinet Tutor
Charlotte has been a member of the HP Team since Sept 2017. As a professional Clarinettist in HM Royal Marines Band Service, Charlotte has served as a Solo Clarinettist since 2002 and holds the rank of Sergeant. She has qualifications in performance, conducting and arranging and recently qualified as a Trinity Music Educator (CME), completing the course in Oct 2019.
Charlotte has been fortunate to travel the world with her music as far as New Zealand and Trinidad and Tobago. She has performed in many exciting venues including the Royal Albert Hall, Buckingham Palace and at prestigious events including the Queen's Jubilee, The London Olympics and The Edinburgh Tattoo.
Currently based at the Commando Training Centre, Royal Marines, Charlotte is embarking on her final 4 years before retiring from the Band Service. She is learning the piano and preparing for her Masters in Performance in the coming year, in preparation to taking on Music Education for young people full time.
As a local resident of Wiveliscombe, Charlotte gets a great deal of satisfaction in giving up her Saturday mornings to teach at High Park, as she fully supports the ethos of the project in giving all young people a chance to learn and experience music making.